General


(63)

I'm a rehired employee. I previously left FRS employment but I didn't draw retirement benefits. Now I'm returning to FRS employment. Do I have a choice between the two plans?


Yes, if this is the first time you've been rehired since the Investment Plan began. As with a new employee, you'll be enrolled automatically in the Pension Plan on your rehire date. If you'd like to participate in the Investment Plan instead of the Pension Plan, you will have until the last business day of the fifth month after your rehire date to select the Investment Plan.


(2303)

I'm also a rehired employee. I know Pension Plan vesting changed July 1, 2001; now vesting is after 6 years. I left FRS employment before July 1, 2000 with 8 years of service and wasn't vested under the previous 10-year vesting rule. Now that I'm rehired, can I participate in the Investment Plan? Am I automatically vested in the current Pension Plan and/or the Investment Plan?


Since you weren't vested when you left, because you hadn't met the previous 10-year vesting requirement, you'll need to remain with an FRS employer for at least one more year in the Pension Plan before becoming vested in the Pension Plan. This is so, even though you have more than six years of service.* If this is your first FRS-covered employment since the Investment Plan was introduced, you can participate in the Investment Plan. You will be enrolled automatically in the Pension Plan on your rehire date. If you then wish to participate in the Investment Plan instead, you have until the end of the fifth month after your date of rehire to select the Investment Plan. If you select the Investment Plan, you will be immediately vested in all future services in the Investment Plan, but you must remain with an FRS employer for one year to gain ownership of your previous Pension Plan years of service.

*Pension Plan members enrolling in the FRS for the first time on or after July 1, 2011 are subject to 8-year vesting.


(2055)

I owe the FRS money for refunded service (or other optional service credit listed above). How do I pay it and where do I send it?


You may pay us by check made out to the Florida Retirement System with your social security number on the face of the check to ensure it goes in to the correct account. Send it to the Division's address: PO Box 9000, Tallahassee, FL 32315-9000. The sooner you pay for the service credit, the less you will pay, since interest is added to the amount due each June 30. You can now also pay for this service with a "rollover" of money you may have saved in another plan (such as a 457 Deferred Compensation Plan or an Individual Retirement Account).


(2081)

What might delay the processing of my disability application?


The most common causes of delays are:
- Insufficient medical information from a physician.
- An incomplete application submitted by the member.
- In the case of an in-line-of-duty disability application, failure to provide a Notice of Injury or other proof that the disability occurred in the line of duty.



(2082)

What happens if my application for disability is denied?


You will have 21 days to file a petition for a hearing before the State Retirement Commission. In addition, the Division will advise you of any other alternatives you may consider.


(1)

What should I do if I don't receive my Pension Plan retirement benefit payment, or if my check is lost or stolen?


If you do not receive your retirement check on the last business day of the month, please wait until the 5th day of the following month before contacting the Division of Retirement's Retired Payroll Section (who must allow the Postal Service until the 5th of the following month to deliver the check). If your check is lost or stolen, call or email the Retired Payroll Section immediately so a "stop payment" can be placed on the check and a replacement check issued. Please note that it takes 10 business days to issue a replacement check. Please refer to the Division of Retirement's publications or other Division of Retirement FAQ's for information on how to request direct deposit.


(2)

After I retire, how do I change my Pension Plan payment option if my spouse dies or if we divorce?


If you are retired, you may not change your selected option once you have cashed or deposited any retirement benefit. You may, however, change the designation of your beneficiary or joint annuitant. Contact the Division of Retirement's Survivor Benefits Section for information and the appropriate form.


(200)

Can I return to work with an FRS-covered employer as a volunteer after retiring from the FRS Investment Plan?


Yes, you can return to employment as an unpaid bona fide volunteer during the first 12 calendar months of retirement without affecting your retirement benefits (after 12 calendar months, no restrictions apply).

To be considered a volunteer, you must not have an employee/employer relationship with the FRS-covered employer and must not be receiving any salary, compensation, or benefits (normally provided to employees) at that time or anytime in the future (for that period). Your employer should not be holding a paid position open or helping you secure paid work in the future, and the work should be that typically done by a volunteer.

Volunteering is not employment; therefore, a volunteer should not be filling a vacancy that is normally a paid position. The volunteer work should be performed without promise or expectation of compensation.

If you are considering volunteering during the first 12 calendar months of retirement you should be aware that if you are later determined to be an employee due to State or Federal employment and labor laws or rules, and salary or compensation is awarded for any part of the required six calendar month termination period after retirement, you will void your retirement and have to pay back all benefits received. If the above situation occurred only during the 7th through 12th calendar months after retirement, no additional Investment Plan distributions would be permitted until you either terminated employment or completed a total of 12 calendar months of retirement. You and your employer would be responsible for repaying any distributions received during the 7th through 12th calendar months.

Any questions about labor laws and rules need to be directed to your employer, since it is a compliance issue for the employer and would not involve the State Board of Administration of Florida or the FRS Investment Plan Administrator.


(100)

Online Registration - Changes to Secret Questions


To help improve FRS members' experience in registering/logging into MyFRS.com and provide more consistency, the FRS has deleted the secret questions and answers on file for all members. The next time you login to MyFRS.com you may be prompted (see screenshot below) to select two pre-populated questions from a drop down box and provide single word answers to the questions (we are rolling this change out in stages). If you have any questions, please review the instructions located at the top of the update page in red or call the Financial Guidance Line at 1-866-446-9377, Option 2 (TRS 711).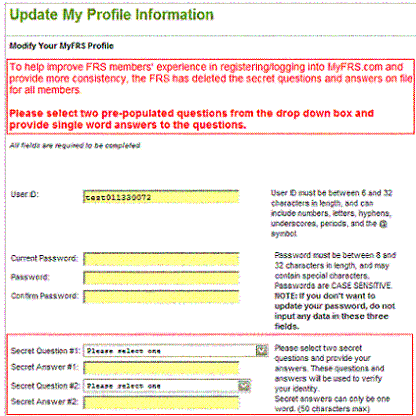 (402)

Can the FRS Select Treasury Inflation-Protected Securities (TIPS) Fund decrease in value?


Yes. Treasury Inflation Protection Securities are designed to provide an inflation adjustment to the underlying principal (face value) of the securities over the period of time until the securities reach maturity (the due date on the securities). TIPS funds are a collection of many TIPS set to mature at different times, and will present behavior similar to other bond funds, to a certain extent, since TIPS are sensitive to changes in interest rates, just like bond funds.

TIPS funds have 3 components of value that affect the daily pricing of the securities until they reach maturity:


A promised rate of interest (also known as a "coupon," based on the fact that bond investors originally had to tear off a coupon and give it to a financial institution to redeem the interest payment) attached to the securities pays semi-annual interest. This interest payment is accrued daily for pricing purposes.
The securities in a TIPS fund are affected by the rise and fall of interest rates in general. As interest rates rise (get higher) the market value of the securities falls (gets lower). A similar affect happens to any fixed income security. When interest rates rise, the price of the securities will fall to adjust for the change in market interest rates. Conversely, when interest rates fall, prices of fixed income securities will rise, as will the net asset values of mutual funds that invest in TIPS.
The expectation of what inflation is going to do has a significant impact on the price of a TIPS fund. The price of TIPS, when issued, is based on the yield (or rate of interest) on similar maturities of U.S. Treasury securities, and factors in the expected inflation over time. Due to the adjustment that takes place on the principal portion of individual TIPS, when inflation expectations are higher, the prices of TIPS securities and funds tend to go up more, as the market anticipates greater upward adjustment to the principal to account for the rate of inflation. On the other hand, when inflation expectations are lower, or if the market had priced in a greater inflation rate than actually occurred, market values for TIPS would fall.